Fly NYC to Melbourne in Lie Flat Business Class
PointsCrowd is a community-supported platform. When you apply for a credit card, make an order, or otherwise interact with the advertisers through the links on this page we may earn an affiliate commission. This helps us maintain and develop the platform further at no cost to you.
Australia feels like a world away from New York City, but United Airlines makes the world feel much smaller. Fly from NYC to Melbourne, Australia, with an exclusive flight deal. It's time to turn those points into gold with a journey to this hub of the Victorian Gold Rush.
What is the deal?
United MileagePlus members can soon find themselves trading in the wintery weather during the NYC winter for the sunny summertime in Melbourne. United Airlines' latest flight deal gives you a trip to the Southern Hemisphere with a one-way flight between NYC and Melbourne.
Take flight on January 28, 2023, on EVA Airlines, where you'll be treated to premium class seats. Get ready for a long-haul flight full of comforts and amenities as you experience the pleasures of flying in EVA Business class.
EVA Business is best in class with its premium amenities before and during the flight. Your flight experience is in the hands of EVA Airlines, and it gives its valued United Plus Members unmatched service for their loyalty.
With this flight deal, you'll have access to United Business perks like United Lounge Access and priority boarding for your flight. You'll sit in the flight's premium cabin designed with larger seats and extra legroom for comfort while sitting up enjoying the in-flight meals or working with inflight WIFI services. Also, Lie-Flat technology for resting during the flight so that you can adjust to the 14-hour time zone difference.
Experience Melbourne
Once the world's richest city, Melbourne is the capital of Victoria, Australia, and maintains treasures that attract nearly 40 million tourists every year.
Explore the vibrant CBD, or Central Business District, night or day. Discover historic landmarks like Flinders Street Station, the oldest in the country, and Queen Victoria Market. Splurge of designer fashions on Collins Street. Immerse in the eclectic nightlight scene down Chapel Street, home to the 24-hour nightclub Revolver Upstairs.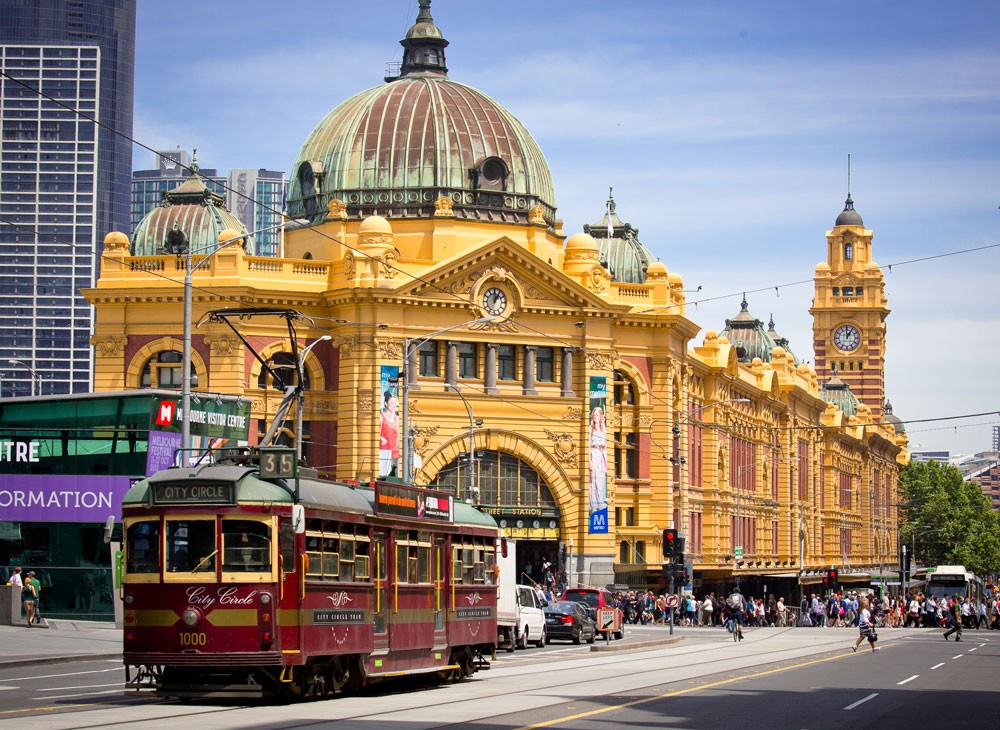 Celebrate one of Australia's favorite pastimes at the Melbourne Cricket Ground, a museum spotlighting the sport's glory. Timing couldn't be better to travel to Melbourne because the cricket season will be in session to join crowds of up to 100,000 fans in a match at "The G." Take a walk through prehistoric times in the Science and Life Gallery. It makes Jurassic Park a reality with 17 full skeleton displays of dinosaurs that used the roam the Down Under.
Get This Deal With United MileagePlus Miles
This flight deal from NYC to Melbourne is one of the best-valued trips to redeem with United MileagePlus Miles.
The NYC to Melbourne flight is valued at 90,000 MileagePlus Miles (an exceptional value at the equivalent of 8.4 cents/mile).
If you already have a United MileagePlus account and earned enough miles, follow these steps to book your award flight:
Sign in to your United MileagePlus account*
Select 'Flight only' and 'One-way'
Enter details for the flight:

NYC to MEL
Date: Jan 28, 2023
Cabin: Business class

Click ' Find Flights'
*You do not have to be logged in to see prices displayed in miles rewards.
If you're short on points or signing up as a new member of the MileagePlus program, you can find special credit card offers that give sign-up bonuses enough to cover the trip cost!
United has several offers available for new credit card holders to earn mileage bonuses to apply toward a trip to Melbourne. The best United credit card deals for this offer are*:
*Credit cards have spending and other requirements to earn bonus miles.
Learn more about these credit card offers, and sign up here to get started